Looking for digital contracts to offer your partners or users?
Look no further! We offer quick, simple, tailor-made contract templates for peers, marketplaces, and businesses. Edit and sign our contracts directly from your phone, computer, or tablet. The cherry on top? We seamlessly integrate add-on features including payment, insurance, warranty, and other services that increase the value for your users.
Since 2017 we've provided over 300,000 users with our sales contracts and gained an incredible rating of 4.7/5 on Trustpilot. We're partnered with some of the biggest marketplaces in Europe, including Mobile.de, DoneDeal.ie and FINN.no.
How we can help
We'll collaborate to lock in a contract template suitable for your needs. By predetermining the fields, including e.g. product, price, date, or customer, the template can be used over and over. Once you're happy with the contract template, all you need to get started is the link we provide you with!
Even though we currently mainly work with online marketplaces, we warmly welcome other business inquiries as well. Do you work for a car dealership, or perhaps represent a consulting agency? Let's talk!
What it costs
How much do you have!? Hehe, just kidding. The pricing is determined by multiple factors – including requested contract volume and the complexity of the template. Whether you pay by contract or through a subscription also impacts the pricing. Either way, the cost will be lower than if you use the contracts we offer to everyone and anyone on our website.
Get in touch
We're eager to hear from you! Click the button above or contact our CEO Johan directly at johan.hultgren@swiftcourt.se.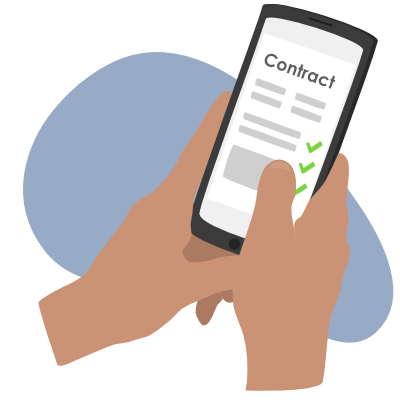 Our contract templates are built with predetermined fields and editable answers